New research suggests that for every $92 spent on driving traffic to a website, only $1 is spent on conversion marketing to maximize sales. Website traffic is useless unless you're able to capitalize on it. We've outlined 7 successful on site promotional campaigns from clients which have resulted in increased ecommerce sales conversions, email opt-ins, Facebook likes, Twitter followers, and decreased abandoned shopping carts.
Conversion Tip #1: Free Shipping
The #1 reason why visitors don't complete their purchase is additional shipping costs. Offer your customers free shipping when they reach your site and when they attempt to leave cart and checkout pages.
Also consider your order thresholds. If you have an average order of $40, then offer free shipping on orders of $60 or more. A study by Harris Interactive and UPS found that 39% of customers would purchase enough to get free shipping. In addition, a study by Compete states that 93% of online buyers would be encouraged to buy more products if free shipping is offered.
By offering free shipping, you can increase conversions as well as the size of your orders. Check out this article on how to offer free shipping for some great advice on how you can offer free shipping to your customers.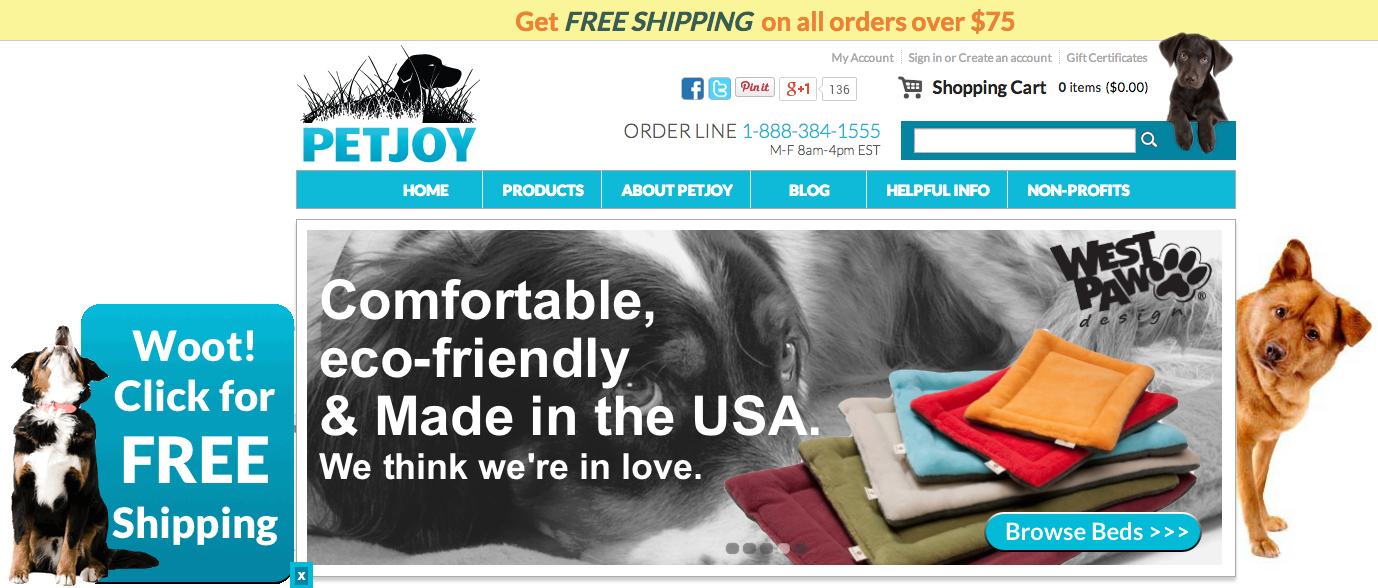 PetJoy offers visitors free shipping with no minimum with this e-commerce promotion. Check out their awesome custom tab and fantastic deals on dog apparel and specialty products! PetJoyOnline.com
Conversion Tip #2: Discount
Running discount promotions is a huge part of any ecommerce conversion strategy and can significantly help you convert sales along with some other purposes. Discount promotions can help you boost short term sales, move excess or dead inventory, gain new customers, reward repeat customers, and gain an advantage on competitors. A discount gives you some versatility with your promotions. According to Lead Converter, 61% of buyers use discount codes so offer customers an onsite discount for a percentage or dollar amount off of purchase.
A 10% discount is the most common discount promotion we see but generally, a higher discount will get more usage. The discount amount you choose will depend on your margins and the purpose of your promotion. By presenting the offer on site, you can prevent visitors from leaving your site to look for promo codes or to compare prices on other sites.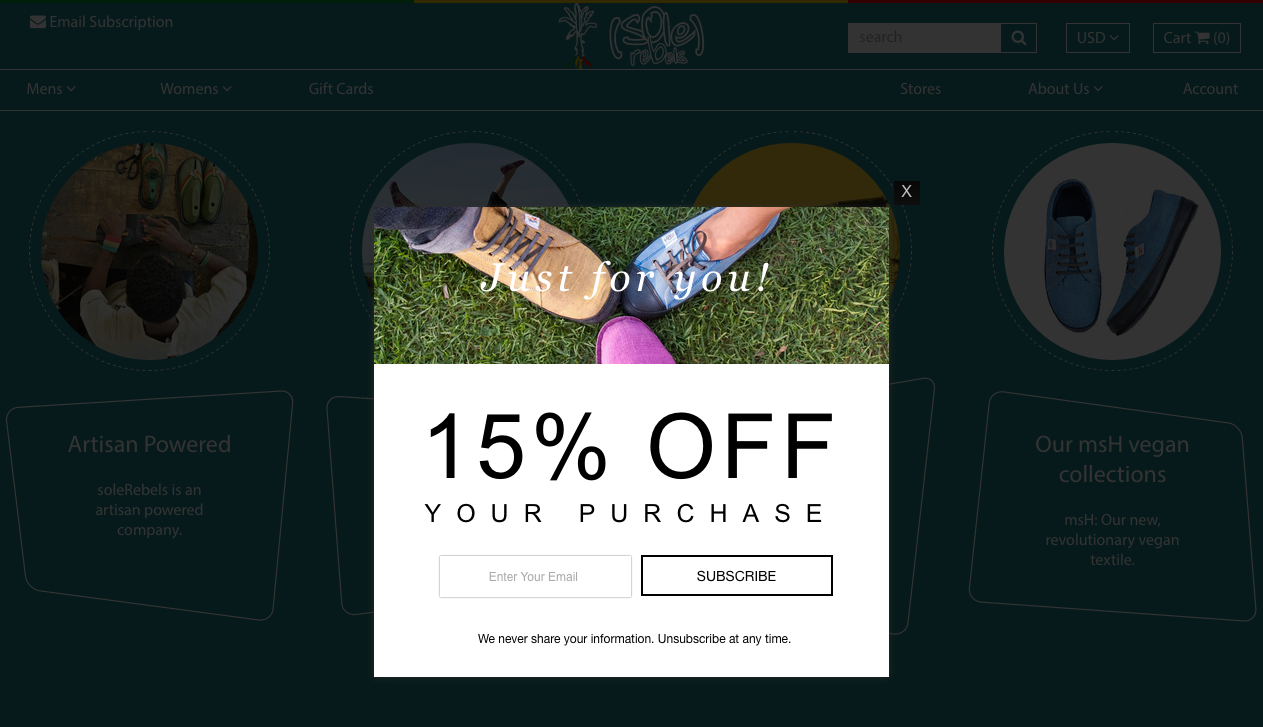 Conversion Tip #3: Discount on One Item
One promotion that is increasing in popularity is offering a discount on one particular item. This allows you to maintain solid profit margins while offering a discount. You can capitalize on small shopping cart sales and offer a greater discount than if you used a blanketed discount. A larger discount amount will grab a visitor's attention and they will be more likely to purchase an item.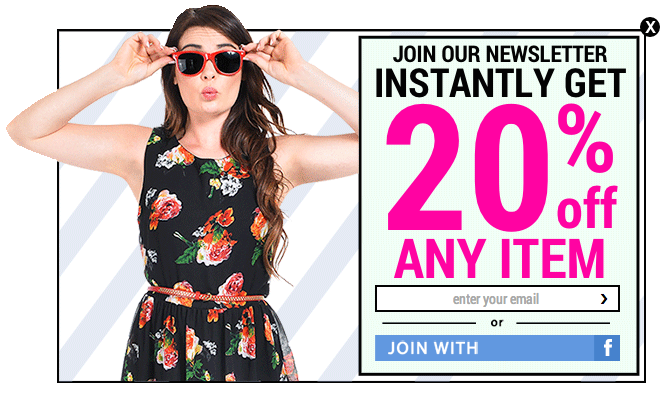 Conversion Tip #4: Gift with Purchase
A gift with purchase is another great promotion to run. People love free stuff! Offer your visitors a free item with the completion of their purchase. Give out some branded merchandise like a lanyard or bottle opener. This is a terrific way to build customer relationships, promote your brand beyond your website, and potentially get rid of some promotional items that have been sitting in a closet for quite some time. This will increase sales conversions because customers must complete their purchase in order to get their free item.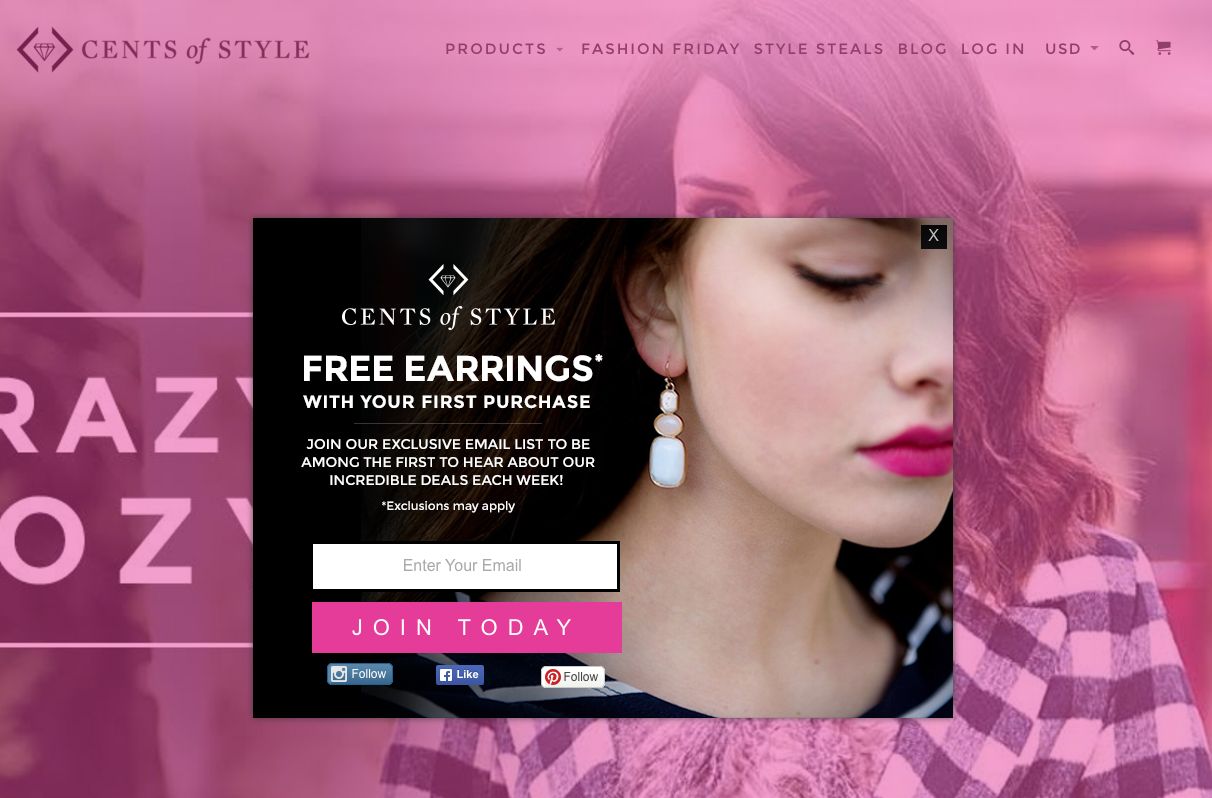 Conversion Tip #5: Gated Content
Offer your visitors access to gated content in exchange for their email. This type of promotion is ideal for publishers and bloggers but can be used for any type of website. This is a great way to build your email list and spread your content. The key here is to offer high quality content that is relevant to your visitors. Bacon Today, a blog about bacon, uses Justuno to increase email opt ins by offering a free bacon recipe book to visitors who sign up for email newsletters. Get your bacon on at bacontoday.com!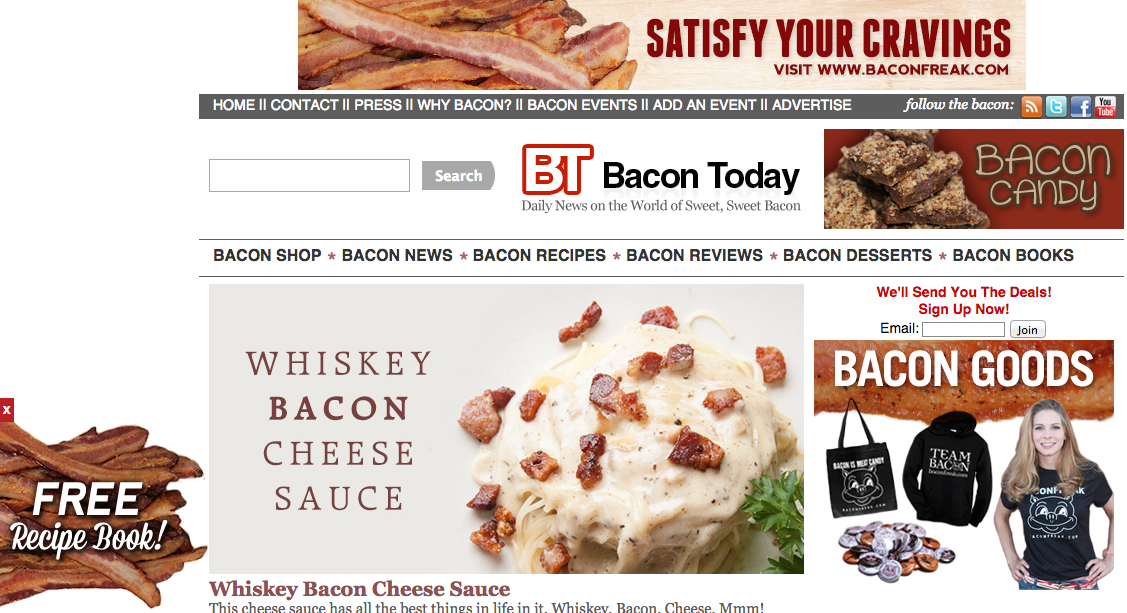 Conversion Tip#6: Contest
If you want to see an increase in email list growth then this is the promotion for you. Have your visitors enter their email in exchange for entry in a contest for a big ticket item. By running a contest, you can drastically build your email list without offering discounts that are eating into your margins. The key here is to have an item that your typical customers will be interested in because you want to capture quality emails for optimal retargeting. This list building promotion is a must for businesses looking to expand their reach.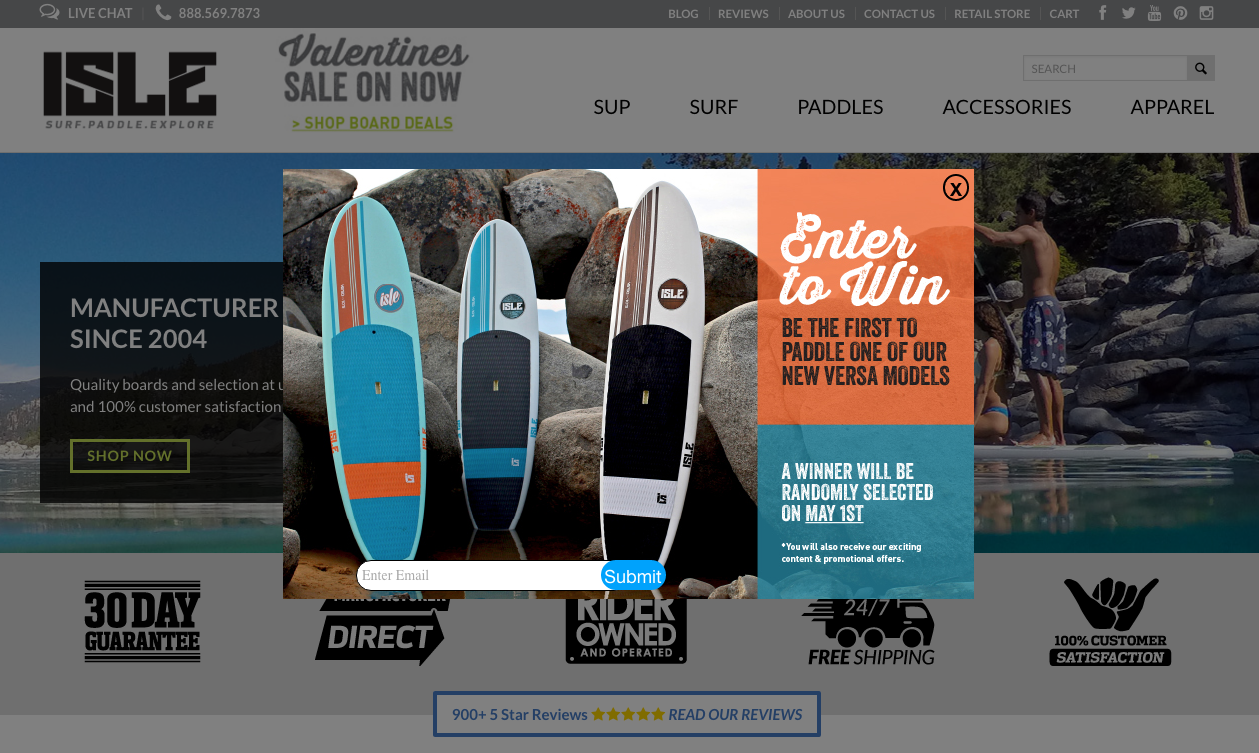 Isle Surfboards runs a contest in which visitors can enter to win an inflatable stand up paddle board. Since the implementation of this promotion, Isle has increased email subscribers by 660%!
Conversion Tip #7: Exclusive Exit Offer
If you're having trouble with visitors failing to complete their purchase or just flat out leaving your site, then hit them with an exclusive exit pop up. One of Justuno's targeting rules allows you to deliver promotions to visitors who break the browser plane (try to leave your site). Make them an offer that they can't say no to and keep them on your site to complete their purchase. This will significantly reduce cart abandonment and bounce rates while increasing sales conversion rates.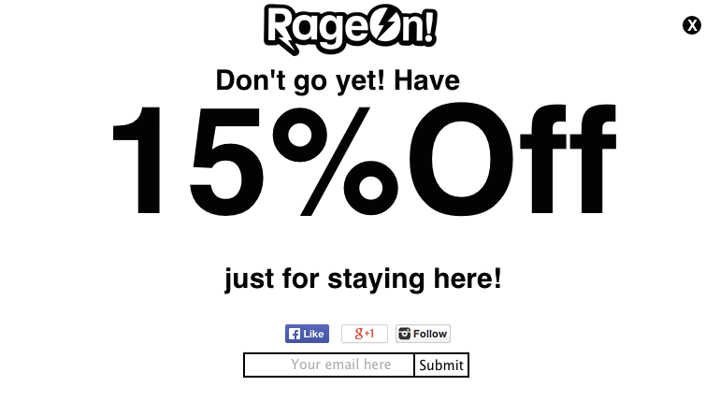 RageOn presents this offer to visitors who are about to leave their site. The offer is different than the one presented to visitors on the first page load. By offering 15% off, they are able to keep visitors onsite and convert on sales. Check out RageOn.com.
Justuno: Your On Site Conversion Tool Box
Justuno gives you all of the tools to run these promotions or create your own! With targeting rules, design customization, and analytics, Justuno gives you the flexibility to run the promotions of your choice in order to convert sales, build your email list, and grow your social fan base. Integrate with social platforms, your email marketing provider, and your e-commerce platform to maximize the effectiveness of your onsite promotions.
Justuno Tip:
Not sure which promotions are working for you? Do some analysis on what your customers are responding to. Justuno offers a/b testing and in-depth analytics of your promotions to see which one's are performing allowing you to optimize how you market to your customers.
Related Posts
---
Get Converting Today!
Implement Justuno to your website and we guarantee leads within 20 mins of publishing. Engage visitors and convert 3-5% more of your traffic with Justuno! Start your 14 day trial today!