Both generic and unique coupon codes have a place in your promotional strategy.

In general, generic coupon codes are used to create a viral effect, directing buzz and traffic to your site. Unique coupon codes are used to limit the usage of a particular promotion.

However, when to use each type isn't always abundantly clear.

Here are a few tips on how to properly utilize generic vs. unique coupon codes to optimize your marketing strategy.
Generic Coupon Codes

A generic coupon code is a code that multiple people can use to receive a promotional reward such as a discount or free gift.

These coupon codes add a viral aspect to promotions because shoppers can easily pass along the code to others or post it on coupon websites.

While some may think this is a negative effect, it can be a great way to drive increased traffic and new shoppers to a site.

Tip: If you're worried about the coupon code driving too many sales, implement a strict time control on the promotion to start. We recommend letting the promotion run one full week to measure the virality of the coupon code through both the weekend and weekdays.

Generic coupon codes work well with everyday promotions, such as 5% or free shipping, so that the reward influences the shopper to complete a purchase without eating into your margins.

This way, if your coupon code does go viral, it will boost sales dramatically, while leaving your profits out of harm's way.

However, one downside to generic codes is the tracking capabilities. Generic coupon codes don't allow you to track where visitors come from and make it difficult to accurately attribute conversions to your marketing efforts.

This is where unique coupon codes can be beneficial.
Unique Coupon Codes

While a generic coupon can be used by multiple shoppers, a unique coupon code is one-time use only. It's generated with a unique alphanumeric string of symbols that allow the discount to be tracked.

Single-use unique codes are a great solution for the tracking issues presented by generic coupon codes since they can only be used once. With unique coupon codes, you can accurately attribute site traffic to marketing efforts, helping to optimize future marketing spend and efficiently distribute resources.

Plus, with Justuno's auto-fetch feature you don't have to worry about creating each unique code — we've automated it for you!

Tip: With Justuno's auto-fetch capability, you can generate promotion codes as needed, eliminating the need to create the codes on your own. This feature works in just a couple of clicks for all Shopify or BigCommerce users, and only a few short steps for all other e-commerce platforms. Learn more.

Use unique coupon codes any time you want to control the number of maximum conversions for a promotion. If you know there is a conversion peak before a sale is no longer profitable, unique coupon codes are a great way to ensure your promotion maintains a positive ROI.

Unique coupon codes can also be used to create an air of exclusivity around your campaign. Setting a limit on the number of unique coupons created and advertising the specific number remaining motivates consumers to make a purchase and can help maintain your profit margins with a finite number of conversions.
When to Use Generic vs. Unique Coupon Codes
It depends on who you are targeting.

For a broad promotion such as an extra discount on sale items using a generic coupon would be ideal. This enables you to clear out inventory for new products but this type of sale isn't one that you necessarily need to trace traffic on.

For a situation where you want more segmentation among those using coupons, unique codes are a better choice. A great way to use unique codes would be to reward the loyalty of high spending repeat customers.

For example, if you have a customer with an average purchase value over $100 and they have made more than five purchases, this would be an ideal time to secure another conversion by offering them a coupon to say thank you.

This is a great way to show appreciation and establish brand loyalty by providing perks to encouraging more frequent purchases.
How Justuno's Auto-Fetch Works for Unique Coupon Codes
There are two different ways to use the unique coupon code feature with Justuno.
1. Create the coupon codes outside of Justuno and enter them manually one at a time or as a group via a CSV file. This isn't a new feature and is how many retailers have managed their promotions in the past.
2. With Justuno's auto-fetch option, your codes are created as needed and then logged into your cart platform automatically via Justuno. This is a great way to automate part of your check out process, increase efficiency, and earn more revenue.
Setup
In the design canvas of your promotion make sure there is a "Unique Coupon Box" layer. Click on the layer and then click the "Coupon Options" button.
Manual Uploads
To upload coupons manually, click the "Unique Coupon Codes" button. Here you can copy and paste up to 10,000 codes at a time. You can also upload a CSV file with your codes. There's also the ability to set a threshold for when you want to receive a notification about a low count of remaining coupons.
Auto-Fetch Coupons
Click the "Fetch Coupon Code" button and choose Shopify, BigCommerce, or Custom as the cart with which you'll be importing your coupons.
In each cart, you will set a coupon to then bring into Justuno to use for unique coupons. Every unique coupon that is used will be automatically logged into your cart platform.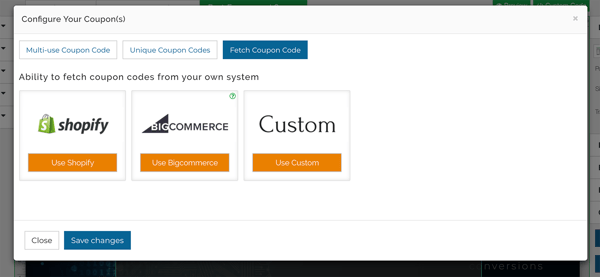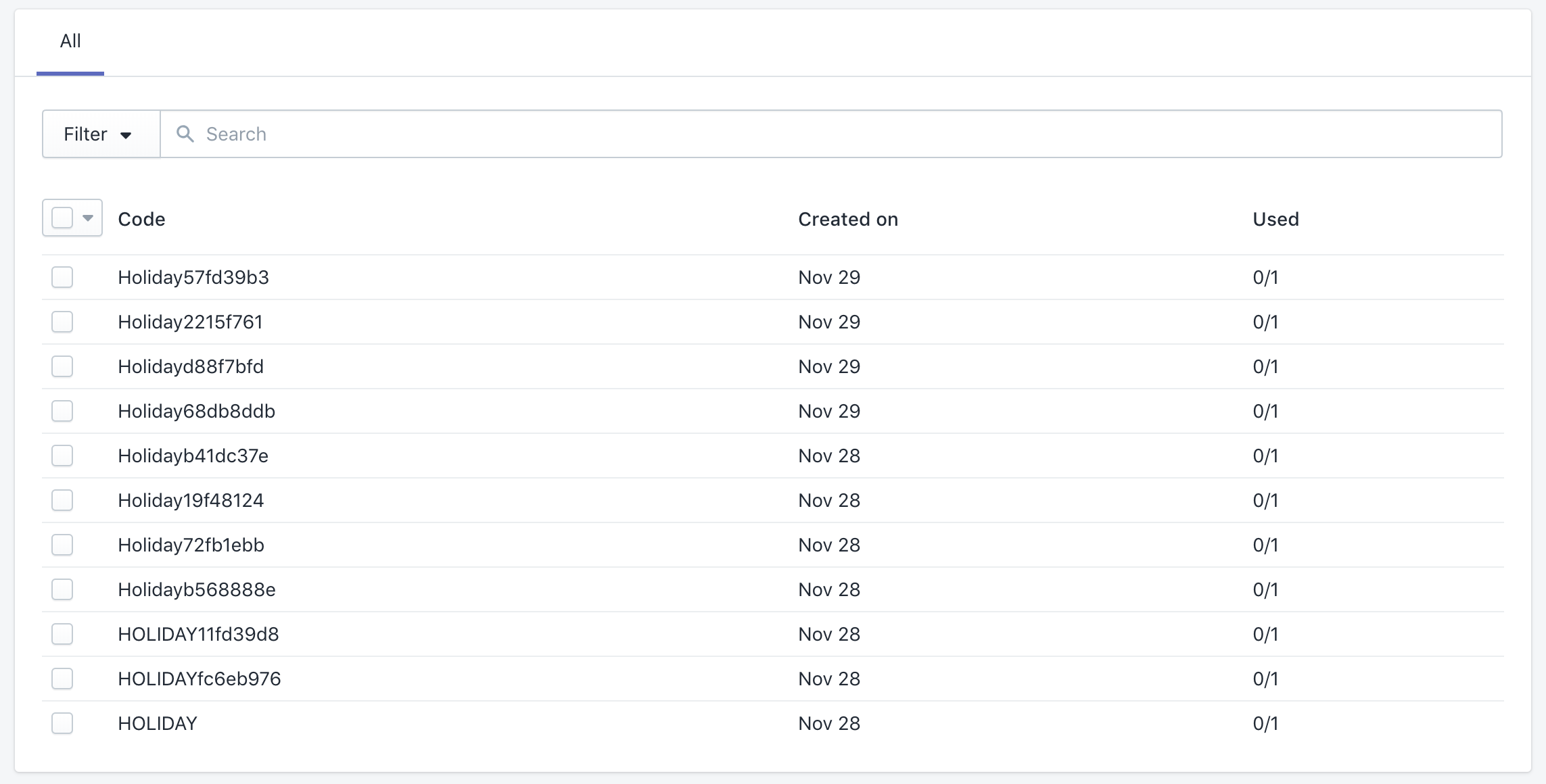 Unique coupons are a great way to help limit coupon misuse in your checkout process and we want to make using them a painless experience for you. With two options you can pick the method that is best for you, and be on your way to optimizing your checkout process.
Distribute generic and unique coupon codes with ease using Justuno! This platform will revolutionize how you use e-commerce promotions to convert traffic.