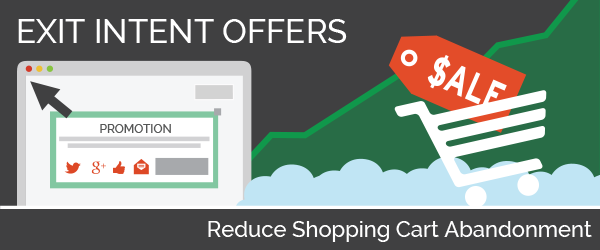 As your complete onsite sales and marketing platform, Justuno is happy to give you the run down on one of the many incredible features in our arsenal: Exit Intent Offers! Take your promotional campaigns to the next level with this new feature for as little as $7 a month. We've provided some valuable info along with an exit intent setup tutorial below.
December Special:
Upgrade to any paid plan in the month of December and receive Exit Intent for FREE (Up to $120 value), plus 33% off. Use code "Exit" upon checkout and your account manager will add the feature automatically.
Key Benefits:
Reduce Cart Abandonment
Increase Sales Conversion
Easily target your top 3 exit pages
Reduce "Coupon Hunting" (58% of consumers)

How does it work?
Similar in nature to our complete suite of "Targeting Rules", exit intent is set up just like any other rule. The difference is when a visitor mouses up and breaks the browser plane with the intent to exit, a special exit offer will be presented.
Why Use Exit Intent?
Prevent visitors from leaving your site by presenting an offer as they try to leave your site. Reduce bounce and cart abandonment rates while also increasing sales conversions.
Pro Tip:
Create a specific exit intent offer that will encourage visitors to stay on your site. Create promotional copy like "Wait, Don't Go!" or "Leaving So Soon?" to grab the shopper's attention. Consider presenting a different offer that will get visitors to continue browsing and eventually complete a purchase. Potential exit intent offers are a slightly higher discount than your base offer, free shipping, or a free gift.

How to Setup Exit Intent Offers
1. Basic Option
Easy one click activation, this will show your desired offer to when any visitor attempt to leave your website. (You'll see this rule under "New Paid Rules")



2. Advanced Segmentation
Want more options? You can activate exit intent based off certain pages or user criteria. While in the targeting rules section, scroll down the targeting rule page (beyond Custom Rules) and locate the "Advanced Rules" option in small print. We've provided below an sample rule that will help as a visual aid to locate the fields that you can adjust to fit your segmentation desires.