The leaves are changing, school is in session, and Halloween is right around the corner. Fall is finally here and we are here to help you with your seasonal marketing strategy. Last year, Americans spent $7 Billion on Halloween. This is a monster opportunity for all online retailers, regardless of what you're selling. With increased online traffic, you need to capitalize on visitors on your site. Below, you'll find some great tips on how to run promotions, how to increase conversions, and decrease bounce and cart abandonment rates. We're here to help you take full advantage of your online traffic this Halloween.
Tip#1: Fall and Halloween Themed Promotions

Custom Fall and Halloween Tabs
Welcome your site visitors to the party with a dash of Halloween creativity. Luckily, we've got you covered with our special fall season tab designs to get your website in the autumn spirit! Check out all of our available tabs in the Design section of your dashboard to find out Witch tab fits your Halloween & Fall marketing strategy....pun intended. Remember, you can always create and upload your own tabs. Learn how you can have a spooktacular tab on your site by watching the video below:
How to Video: Fall and Halloween Themed Tabs
Customize Your Pop Ups
You can get your pop ups looking sweet just in time for Halloween by uploading your own backgrounds and banners. You can customize your pop ups by going to Pop Up Editor under the Design tab. Customers appreciate a little personality and wit so go the extra mile and create something that will really jump out to them. Have some fun with it!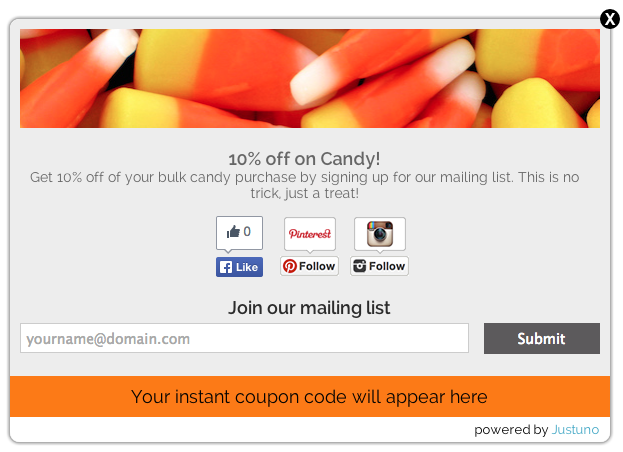 Tip#2: Segment Promotions for Higher Conversions
You want to reach visitors with your promotions at certain points in the purchasing process in order to maximize conversions. We've found that the highest conversion rates with Justuno occur on the checkout and shopping cart pages. Here is the breakdown:
#1 Checkout (35% of Conversions)
#2 Shopping Cart (28% of Conversions)
#3 Homepage (18% of Conversions)
#4 Other (19%)
According to Baymard Institute's 21 independent studies on cart abandonment, 67.75% of all online shopping carts are abandoned. This is a clear indication that you need to be running promotions on your checkout and shopping cart pages to capitalize on visitors with intent to purchase. Display discounts and promotions on your homepage to. Justuno gives you all the tools you need to run promotions on your cart, checkout, and home pages.
Tip#3: Keep Visitors on Your Site With Exit Intent Offers
With plenty of competition this Halloween season, you want to keep visitors on your page. Prevent customers from leaving for coupons, price comparisons, and competing websites with exit intent offers. Justuno features a targeting option that lets you present an offer to visitors that are about to leave your site. Turn on this targeting rule and significantly reduce your bounce rates and cart abandonment rates. Check out how it works in the video below:
Tip#4: What Promotions to Run
Offer customers something that will ultimately influence a customer's purchasing decision. The #1 reason people abandon their carts is "unexpected costs" like shipping, taxes & fees. According to this study by Worldpay, 61% of consumers said they were "somewhat likely" to cancel their order if free shipping is not offered. This is more of an emphasis for Halloween shoppers because they need their items by a certain date. Our advice is to promote a shipping special. Offer free or priority shipping to make their purchasing decision easier. Check out this article from Web Marketing Today to get some info on how to approach free shipping to make it work for your business.
Need some other promotion ideas? Check out 7 Ways to Optimize E-Commerce Conversions with Onsite Promotions!
In Conclusion...
With costumes, decorations and parties, Halloween is a holiday that people are planning for. Be sure to get started on your Fall and Halloween marketing strategy early to take advantage of all seasonal traffic on your site. With a diverse set of tools, Justuno will provide you with all you need to maximize your sales conversions and social opt ins. Fall is a great time of the year to connect with your customers so get creative! Have fun and please be sure to share your own custom tab and pop up designs with us by posting a comment to the blog!
Related Posts
---
What Is Justuno?
Justuno is a suite of tools for ecommerce marketing that gives you the ability to create and manage incentivized promotions allowing you to increase sales conversions, build email lists, and get social fans! The Dashboard also includes behavioral targeting rules, exit intent offers, and customizable tabs and pop ups. Justuno can seamlessly integrate with any website and email client making it easy for you to set up your always free account today!