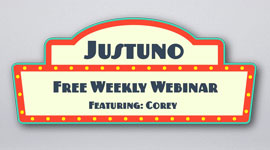 Interested in learning about social incentive marketing? Want to learn about Justuno's new features? Then check out our upcoming free webinars in the month of November! Join Justuno Vice-President of Sales, Corey Snow, as he presents the benefits of social incentive marketing and how you can use the social marketing tool, Justuno, to increase sales and build your customer base.
Here are the upcoming free webinars for the month of November:
Don't miss this excellent opportunity to catch some of the brightest minds in the up and coming field of social incentive marketing. Space is limited so sign up early. See you there!
Sign Up For Free Webinars Here
---
What is Justuno?
Justuno is a suite of tools for e-commerce and publishing that gives you the ability to create and manage incentivized promotions allowing you to increase sales conversions, build your email list, and get social fans! The Dashboard also includes behavioral targeting rules, exit intent offers, and customizable tabs and pop ups. Justuno can seamlessly integrate with any website and email client making it easy for you to set up your always free account today!