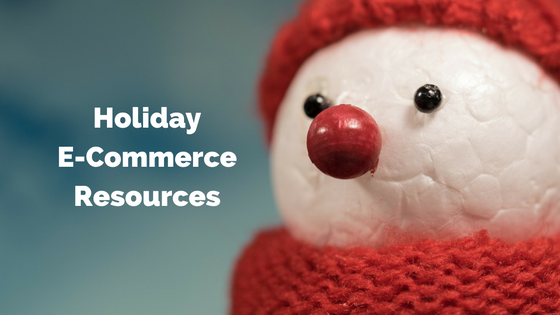 To help you during this hectic and important time of the year, I've gathered a collection of Black Friday and holiday shopping resources! The resources span from general best practices to step-by-step guides and cover a variety of topics including conversion rate optimization, e-commerce operations, and paid advertising.
Enjoy and please share your resources in the comments section below!
2016 E-Commerce Holiday Promotional Calendar: Key Sales Dates and Helpful Tips
Black Friday and Cyber Monday are most likely going to be your largest sales days this holiday season. But there are plenty of other opportunities to drive more sales. Check out the 2016 e-commerce holiday promotional calendar for all of the key sales dates in November and December!
---
4 Commonly Overlooked Opportunities to Maximize Holiday Traffic Conversion
Justuno CEO and Co-Founder, Erik Christiansen, provides his 4 biggest opportunities to take advantage of this holiday season. This straight forward read will provide you with excellent perspective and 4 actionable tactics to drive more sales!
---
The 5-Step Checkout Optimization Guide to Prep for Black Friday
Is your checkout process optimized for the holidays? It should be. Allen Burts of Blue Stout shows you how to identify and fix problems with your checkout process to ensure maximum sales conversion during the most lucrative time for e-commerce sales.
---
4 Mistakes Ecommerce Stores Should Avoid This Black Friday
It's always nice to hear about common mistakes beforehand so you don't commit them yourself. Marissa Petteruti of Klaviyo breaks down 4 common mistakes to avoid this Black Friday!
---
18 Insider Tips Every Retailer Needs to Know This Holiday Season
Get holiday insider tips from 18 e-commerce experts! This quick read is incredibly valuable and may give you some game changing advice right before the holiday shopping explodes.
---
5 Holiday Marketing Tactics that Increase E-Commerce Sales Conversions
You've got a ton on your plate...and it's not even Thanksgiving yet! There are a bunch of different tasks that go into a successful Holiday season in ecommerce and it's easy to lose track of the basics. Here are 5 essential marketing tactics to help you convert more sales in the next two months!
---
14 Advanced Strategies to Drive More Holiday Sales With Facebook Ads
Facebook advertising is going to play a massive role in holiday sales this year. If you're going to run paid ads to drive traffic, Facebook ads are where to focus. Our friends at Shopify provide 14 different Facebook ad strategies just in time for the holiday season!
---
4 Tips to Avoid Operational Mishaps This Holiday Season
Don't forget about business operations! Our friends at Stitch Labs have provided 4 tips to help your business run more effectively in the heat of crazed holiday shopping.
---
Quick Video: The Two Most Common E-Commerce Sales Funnel Fails
While this video is not necessarily holiday focused, it is a great resource for those who want to keep things incredibly simple during the holidays.
---
5 Successful Holiday Social Media Campaigns to Boost Revenue
The Bizzy team gives you 5 different social media campaigns to use in the coming weeks to generate buzz and traffic. Give it a read!
Have some other resources that would be helpful to other retailers? Please share the links in the comments!