Instagram and Pinterest continue to gain popularity mainly due to consumers reacting well to visual content. According to a study by Forrester*, Instagram has 58X more engagement per follower than Facebook and 120X more engagement per follower than Twitter. According to Digitas**, 70% of brand engagement is generated by users, not brands. You need to be marketing through these platforms. Here are 5 ways that you can get more Instagram and Pinterest followers by improving your content and using social marketing tools.
#1: Convert On-Site Traffic
Convert your current website traffic into followers. Your website traffic is your best social lead generation because the visitors are on your site and show an interest in what you're doing or selling. These are high quality instagram and pinterest followers that can help your brand grow. Include Instagram and Pinterest content somewhere on your site and encourage visitors to follow you on these platforms. The best way to encourage visitors to follow: incentivize visitors to follow you on Instagram or pinterest. Offer a discount or free giveaway that visitors will only receive once they follow you on one of these platforms.
Phiten USA, a manufacturer of AQUA-METALS™ active lifestyle products, converts its on-site traffic into Instagram followers and converted sales by offering a 10% discount to new Instagram followers. To take your game to the next level, zip on over to Phiten USA.

#2: Instagram and Pinterest Posts on Facebook
Even though we are talking about Instagram and Pinterest, we can't ignore the massive amount of users on Facebook. By sharing Instagram and Pinterest posts on Facebook, you can reach more potential followers with your content. Yes, Facebook feeds are crowded and the staying power is short, but visual posts tend to stick out and many Facebook users also use Instagram and Pinterest. It doesn't hurt to post on multiple platforms.
Kauai Coffee Company posts their Instagram photos on Facebook to increase content exposure. This is a reposted customer photo that represents the Kauai Coffee brand in a fun way. This is an excellent use of user generated content and certainly has me pondering where I can get a mug like that. For a taste of Hawaii, check out Kauai Coffee Company!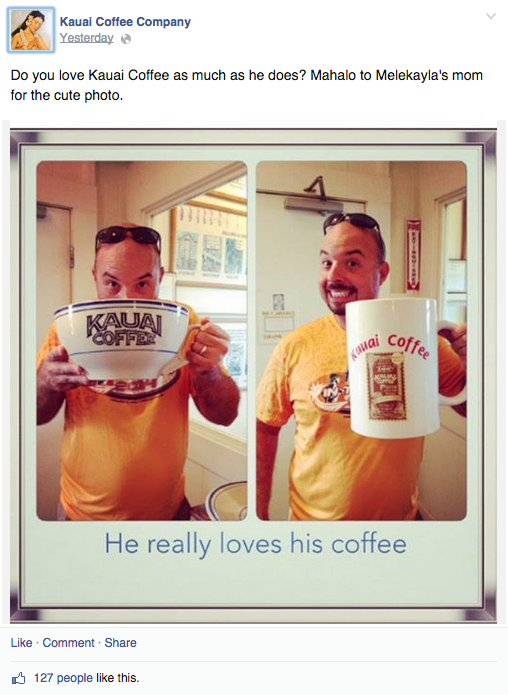 #3: Hashtags
I love hashtags...besides the use of them in spoken language. They are a powerful way to reach a large group of users or a focused community that may be interested in what you offer. Here are the top 10 tags on Instagram provided by websta.me:
#love 676,529,444 posts

#instagood 306,420,972 posts

#me 290,116,835 posts

#tbt 263,248,286 posts

#follow 251,690,437 posts

#cute 251,470,350 posts

#followme 233,277,185 posts

#photooftheday 232,370,770 posts

#tagsforlikes 215,301,618 posts

#happy 215,274,646 posts
Using hashtags can be effective on Instagram for reaching a large number of users but content can get lost in the mix. I personally prefer using a few topic focused hashtags to reach users that are genuinely interested in what you're posting along with a couple high traffic hashtags. On Pinterest, you want to avoid using too many hashtags. Go for a few topic specific hashtags that will drive high quality traffic to your pins and boards.
Here's an Instagram post from White Faux Taxidermy, online vendor of faux animal head decor. WFT posts awesome content and chooses hashtags wisely with a few WFT specific tags and others focusing around home decor.

#4: Post Great Content
Instagram: Post visually pleasing images that are relevant to yourself and your brand. You want a photo that will stand out and also evoke emotion. Instagram is a great way to display your brand by showing behind the scenes content. This can really personify your company and create connections with people thus building brand loyalty. Filters and collages can help develop eye catching content and providing a personal touch can make your Instagram feed relatable.
Skinny Me Tea, a detox tea company, got me with this post. I'm currently writing this on a monday and this photo encompasses exactly how I'm feeling. I can relate to the photo, and felt compelled to repost it. Check out Skinny Me Tea for tea products and solid content on both Instagram and Pinterest.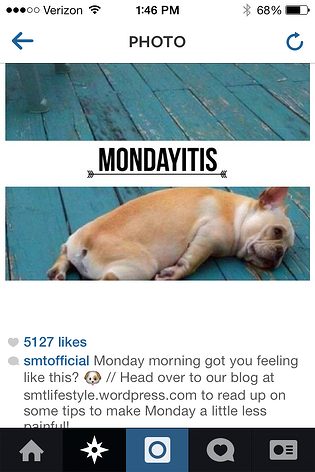 Pinterest: Successful content on Pinterest is both visual and informative. Include great photos, a descriptive title, and solid content to back it all up. Your pins need to stand out on boards and need to provide useful information to be shared with other users. According to a study by Rich Relevance, Pinterest accounts for 25% of retail referral traffic. This means that consumers are using Pinterest to look for products to buy. If you're an ecommerce retailer, you need to post about your products with high quality images, info, and a link back to your site. This is important for driving traffic to your site and for SEO purposes.
UV Skinz, a company specializing in sun protective clothing, is a great example on how to use Pinterest. Their content is visual, relatable, and informative for consumers. I'm a big fan of how they market using Pinterest. Visit UV Skinz for protective sunwear and some amazing content!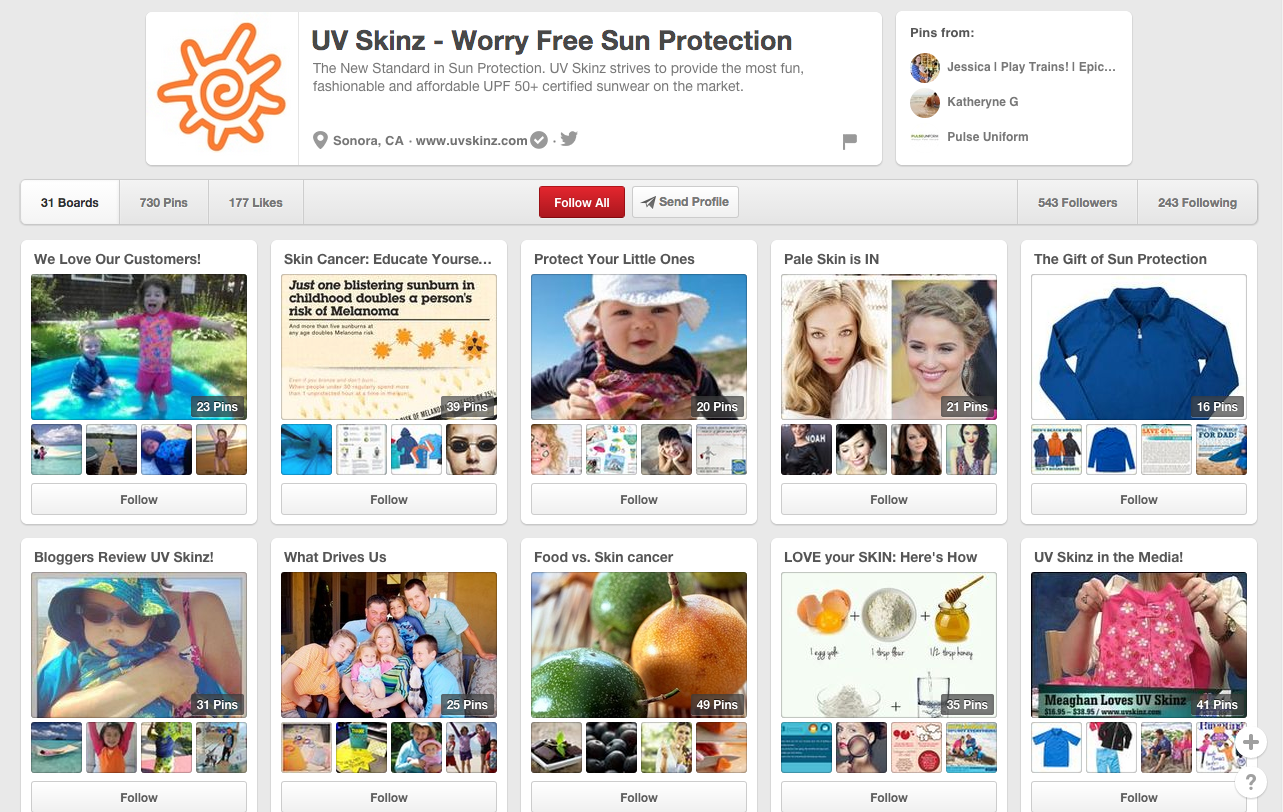 #5: Engage, Engage, Engage
I can't stress this enough. Interacting with other users and your followers can significantly increase your followers and interaction. By using Instagram and Pinterest as social marketing tools, you can interact with consumers at a much higher level than you would be on Facebook and Twitter. With high engagement, you can also depend on consumers to spread your content and brand, thus decreasing the time and resources spent on social media marketing. Explore hashtags, follow, like, pin, and comment. This will increase your profile's exposure and your likes, pins, and follows. Interaction is encouraged as long as you are not spamming posts.
Related Posts
---
What Is Justuno?
Justuno is a suite of tools for ecommerce marketing that gives you the ability to create and manage incentivized promotions allowing you to increase sales conversions, build your email list, and get social fans! The Dashboard also includes behavioral targeting rules, exit intent offers, and customizable tabs and pop ups. Revamp your social media marketing and increase Instagram followers! Justuno can seamlessly integrate with any website and email client making it easy for you to set up your always free account today!