Running effective e-commerce promotions takes some planning and with some of the biggest sales opportunities on the horizon, we thought we'd help you out with a calendar of key dates!
Update: Grab the 2017 Promotional Calendar E-Book for up to date promotional strategies and a 2017 calendar to help you stay organized this year!
Recognizing which dates or holidays are going to big opportunities for your business will lead to more effective marketing and conversion strategies. Here are a few important aspects to consider when running a promotion on one of these key dates.
How do you plan on driving traffic to your site? Schedule email campaigns, consider PPC campaigns, and look for other ways to build anticipation.
What type of sale or promotion do you plan to run? Are you using promo codes? Will it be a site wide sale? Consider these factors when modifying your site for the promotion.
Use an on site promotion. This is the most effective way to notify visitors of the promotion you're running. You can use these on site promotions to distribute promo codes, capture emails, and direct traffic to sales landing pages.
Have fun with the holiday or date! Get creative with how you are engaging and notifying people of your sale. Play in to the holiday in your email marketing campaigns and with your on site promotions. Consumers are much more likely to react positively to a brand that maintains current and fresh marketing content. Here are some design tips.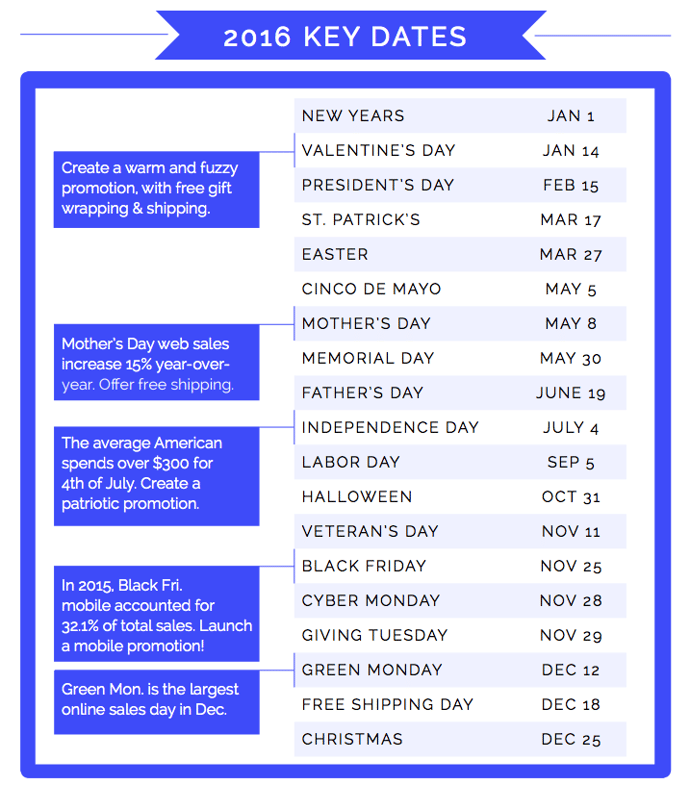 Download the E-Book!
Get all of the info you need to run effective seasonal promotions! The E-Book includes:
2017 Key Sales Dates (never miss another holiday)

Inspiration - Seasonal Promotion Design Examples

Promotional Checklist and seasonal sales opportunities
Get The Ultimate Guide to Holiday & Seasonal Promotions for E-Commerce below!