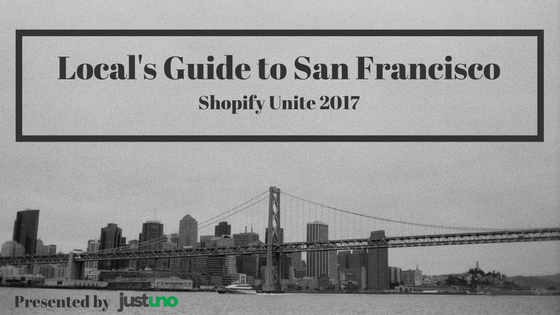 San Francisco is full of beautiful views, history, and culture. The Justuno team whipped up this list of things to do while in San Francisco. If you're in town for Shopify Unite, you should hit some of our favorite spots!
Lodging
Cost-Effective Lodging
Fisherman's Wharf Hostel: Accessible option within walking distance of the venue.
Green Tortoise Hostel: Unique hostel in the heart of North Beach.
The Urban Hotel: Top rated hostel in the heart of SF with accessible rates.
Airbnb: If you have a group, Airbnb could be a great solution for lodging.
Getting to San Francisco
San Francisco International Airport (SFO)
If you're flying into town, the most common destination will obviously be SFO. It's a 30 minute BART ride into downtown San Francisco.
Oakland International Airport (OAK)
If options are limited flying into SFO, Oakland Airport is another fantastic option and only takes about 10-15 more minutes to get into downtown San Francisco via Bart. You may also find lower fares flying into OAK.
Getting Around Town
Uber and Lyft are the most common forms of transportation in the city and it's generally pretty economical.
If you don't have the Lyft app, you can get a $25 credit as a new user! - Click Here
Bart is another cost-effective option to get to certain parts of the city, however, it does have it's limitations. - Bart Info and Map
Other options include:
Schedule of Local Events 4/19 - 4/22
Wednesday 4/19
Thursday 4/20
Friday 4/21
Saturday 4/22
Outdoor Activities
Explore the Presidio and Hike Lands End: The Presidio is a park and former military base on the northern tip of San Francisco. The park is full of many historical buildings and museums, wooded areas, hills and scenic vistas overlooking the Golden Gate Bridge and Pacific Ocean. For the family, there is a Disney Museum, bowling and wildlife adventures.
Walk Across the Golden Gate Bridge: From Fort Baker, it's a short (1/2 mile) but uphill walk to the span of the Golden Gate Bridge. Follow the signs for the pedestrian path to walk on the east side of the span or visit the Vista Point look out. If you make it the 2 miles across to San Francisco, be sure to visit the Bridge Pavilion. If you'd rather cross the bridge by car, head to Crissy Field and Fort Point to take in the view of the bay from the San Francisco side.
Alcatraz aka The Rock: Give the night tour a go... very spooky. alcatrazcruises.com
Telegraph Hill and Coit Tower: Coit Tower, located in North Beach, offers stunning views, especially of the Bay Bridge and Alcatraz. After you've checked out Coit Tower, walk down The Stairs of Telegraph Hill - all 400 of them! It's worth it because, along the way, you'll get to see some beautiful houses, brightly colored gardens and parrots. Also, it's all downhill!
Ina Coolbrith Park: One of the best views of the city. Located very close to Coit Tower. Check it out!
Delores Park: Located in the Mission district. Weekend spot for locals with a bunch of restaurants and shops nearby.
Marina Green to Fort Point: Great spot for a run with an amazing view as a reward. Bring your camera! Here's the route.
Bicycle Rentals and Tours: Hop on a bike and explore the city! Rent here.
Dining in San Francisco
Zarzuela: Russian Hill – Best tapas and sangria in San Francisco. It's been open for 22 years and the staff hasn't changed.
Out the Door: Pacific Heights – A spin-off of its parent restaurant, The Slanted Door, this place is great to get authentic chicken pho, imperial rolls and papaya salad... and so much more. Also a great spot for brunch.
Kokkari: Financial District – One of our favorite restaurants in the city–everything is top-notch. Be sure to try the grilled octopus. You'll want to make reservations here.
Seven Hills: Nob Hill – Beautiful homemade pastas and a great wine selection. Intimate and quaint setting.
Lucca Delicatessen: Marina – Authentic Italian deli with amazing sandwiches.
A16: Marina – Italian food from the Campania region with awesome wood fired pizzas. Located in a great neighborhood perfect for strolling and checking out little shops.
La Ciccia: Noe Valley – Owned by a lovely Sardinian couple, this place offers bold and rustic flavors, homemade pastas and a great wine selection.
Mama's: North Beach – Best brunch in San Francisco. It's located on the corner of Washington Square Park in North Beach (Little Italy). North Beach is also home to the oldest bar, The Saloon. Down the street is another cool historic bar, Vesuvio, which was frequented by the Beat Generation.
Tony's Pizza: North Beach - Great Italian joint located in the heart of Little Italy.
Nopalito: NOPA - Mexican food with the freshest of ingredients. Open for both lunch and dinner.
Rogue Ales Public House: North Beach - Great selection of beers with a tasty array of dishes.
Magnolia: Upper Haight - Gastropub serving brunch, lunch, and dinner.
Cocktails, Beer, and Dive Bars
21st Amendment: SOMA - Local brewery with delicious food and tasty beer.
Madrone: NOPA - Full on art experience. Great cocktails and live music.
Kennedy's: North Beach - Irish pub with plenty of games to keep you occupied!
The Killowat: Mission - Dive bar with plenty of personality and a pool table
Bourbon and Branch: SOMA - Speakeasy located downtown. Vintage ambiance and decor.
Music and Events
The Independent: NOPA - See event calendar
The Fillmore - See event calendar
Boom Boom Room: Fillmore - See event calendar
Cobb's: North Beach - Comedy club See event calendar
Interactive Map
Here's an interactive map with key locations and things to do. Click in the upper right hand corner to fully expand the map in your browser window.
Shopify Unite
Want to attend? Sign up for Shopify Unite Here