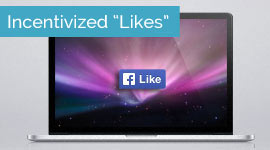 On August 7th, Facebook implemented some notable changes in its platform policies concerning games and apps as well as proper use of the platform. The changes will specifically impact app developers and businesses who use Facebook to spread content. New policies will go into effect on November 5th, 2014, giving developers some time to make the necessary changes to comply with the new policies.
Justuno users, no need to worry. You can still use Facebook in your gated promotions on your site as well as the many options that Justuno offers! This policy only applies to pages and apps on the Facebook Platform.
Facebook explains the changes below:
Games which include mandatory or optional in-app charges must now disclose this in their app's description, either on Facebook or other platforms it supports. This is to give people a clear indication that your game may charge people during game play.
You must not incentivize people to use social plugins or to like a Page. This includes offering rewards, or gating apps or app content based on whether or not a person has liked a Page. It remains acceptable to incentivize people to login to your app, check in at a place or enter a promotion on your app's Page. To ensure quality connections and help businesses reach the people who matter to them, we want people to like Pages because they want to connect and hear from the business, not because of artificial incentives. We believe this update will benefit people and advertisers alike.
The first change is obviously aimed at games that advertise that game play is "free" but include in-app charges. Facebook is requiring game developers to add the appropriate warning to their app if the game includes mandatory or optional in-app charges. If the game doesn't charge users at all then you don't have to do anything.

The second change prohibits apps and pages from incentivizing users to use plugins or like a page with gated content, gated apps, or rewards. Pages still have some freedom to incentivize users with promotions and check-ins. Facebook's explanation of this change has to do with the apparent inorganic growth of Facebook pages. The changes should benefit Facebook users in that they will be able to get somewhat of an accurate opinion on the popularity of pages. However, businesses and page owners will suffer. The incredible content spreading platform of Facebook has taken away a valuable asset to page owners who are just starting out. In the long run, the changes should establish Facebook as a place where online consumers can trust what they see.
How Should Facebook Page Owners Adjust to Policy Changes?
Draw in Visitors with Awesome Content - If you want to grow your page organically, you must produce applicable and engaging content. Focus on providing users with information that relates to your fan's interests and consumption habits. After all, your fans will be your top resource in distributing content come November 5th.

Focus on Your Current Fans - This piggy backs on my last point. Find ways to connect with your fan base. Interact with fans! Facebook policy still allows pages to incentivize users through promotions, check-ins, and log ins but only

AFTER those users have liked your page.

Take Advantage of the Grace Period - If you currently use "like-gating", then you probably want to build up your fan base as much as possible before November 5th. This opportunistic approach is fine but take the time to readjust your strategy and find new ways to grow your fan base.

Relocate Incentivized Promotions to Your Website - With Justuno, you can run the same promotional techniques directly from your website. Get Facebook fans through gated on-site promotions by offering a coupon code in exchange for a Facebook like. Justuno also enables you to acquire emails, Twitter followers, Google+1, and other available options all by incentivizing website visitors. Re-think your strategy by checking us out!
Related Posts
---
What Is Justuno?
Justuno is a suite of tools for ecommerce marketing that gives you the ability to create and manage incentivized promotions allowing you to increase sales conversions, build email lists, and get social fans! The Dashboard also includes behavioral targeting rules, exit intent offers, and customizable tabs and pop ups. Justuno can seamlessly integrate with any website and email client making it easy for you to set up your always free account today!