Check out some recent pop-up examples in a recent post
10 Inspiring Examples of Email Pop-Up Designs and Why They Work
Having pop-up promotions on your site can boost sales, increase email signups, and get you social fans but certain elements about pop-ups get overlooked on a regular basis. Pop-up design can substantially make a difference in your e-commerce marketing strategy and website conversion rates.
That's why we give our customers the ultimate design tools to take their promotions to the next level. I've provided some examples of simple and effective pop-up designs from our retail clients, small and large.
1. Bell and Barnett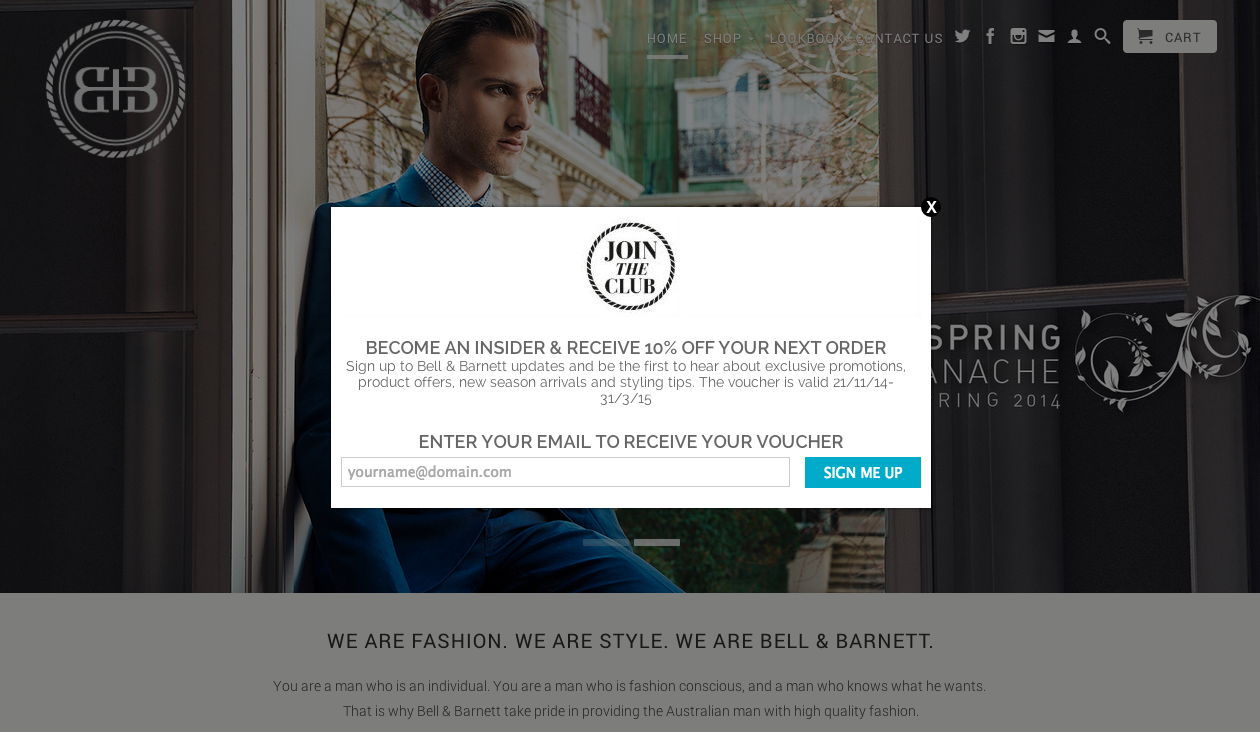 Australian Retailer, Bell and Barnett, sells high quality clothing for the fashion conscious man. The pop-up design matches the clean branding of the site and the all white design stands out from the background image. The promotional copy is direct and shoppers know exactly what is being offered.
What we like:
Coloring: The white background allows the pop-up to stand out while the "Sign Me Up" button matches the color of other call to action buttons on the site. The promotion design fits perfectly with Bell and Barnett's branding.
2. Little Roseberry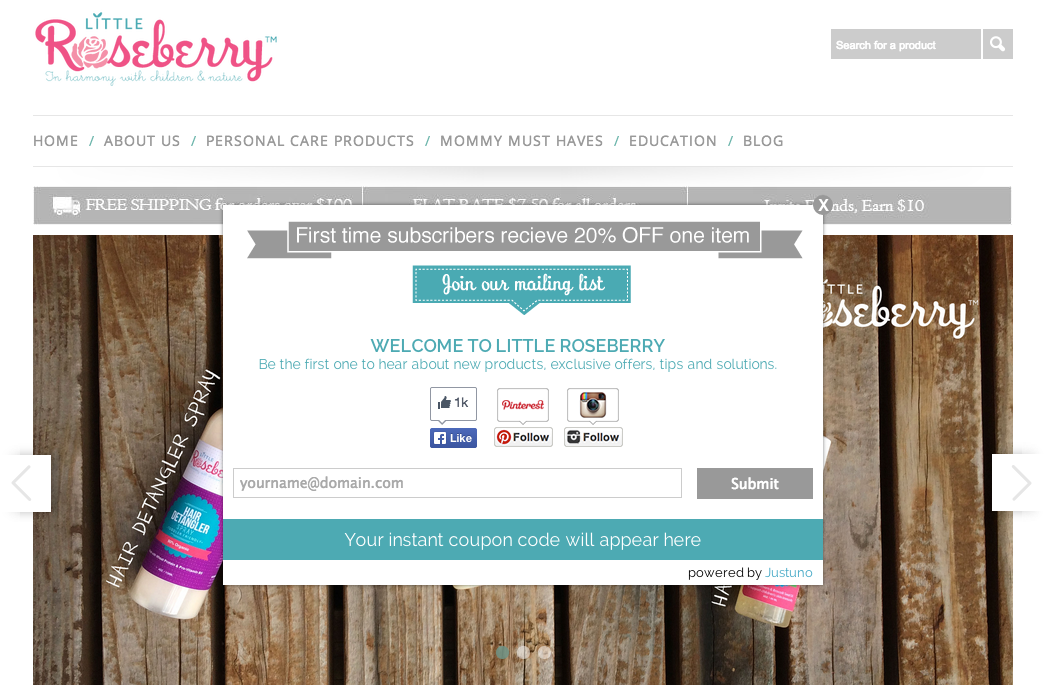 Little Roseberry specializes in personal care products for babies and children. Their products are 100% plant derived and are infused with vitamins and antioxidants to keep your children's skin healthy. Their visually pleasing pop-up was easily designed using Justuno.
What we like:
Header Graphic: Little Roseberry designed a custom header graphic that gracefully matches the site's design while effectively informing visitors of the offer. Not a design wizz? Check out Canva for a free design program to make your custom graphics!
Promotional Copy: Little Roseberry let's visitors know what the discount is, what the visitor has to do to receive the discount, and where they will receive the discount code. The copy is brief and clearly states the details of the offer.
3. NewTress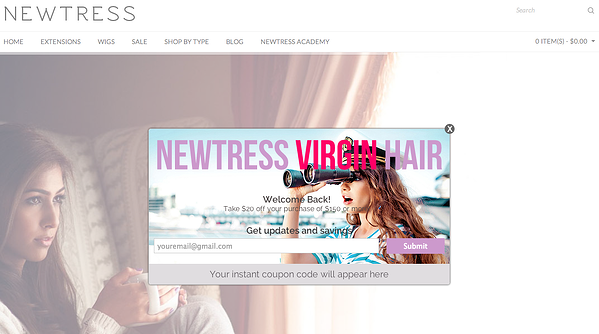 NewTress is a specialty retailer of hair and hair extension products. Started in 2013, NewTress boasts a well designed site and has developed a strong customer base. To increase email sign-ups and sales conversions, NewTress implemented an awesome pop-up design.
What we like:
Background Image: NewTress designed a colorful background image with an eye-catching typography header. The promotion looks completely organic on the site and the vibrant colors allow the pop-up to stand out. A background image can be uploaded within the Justuno design canvas.
4. Tens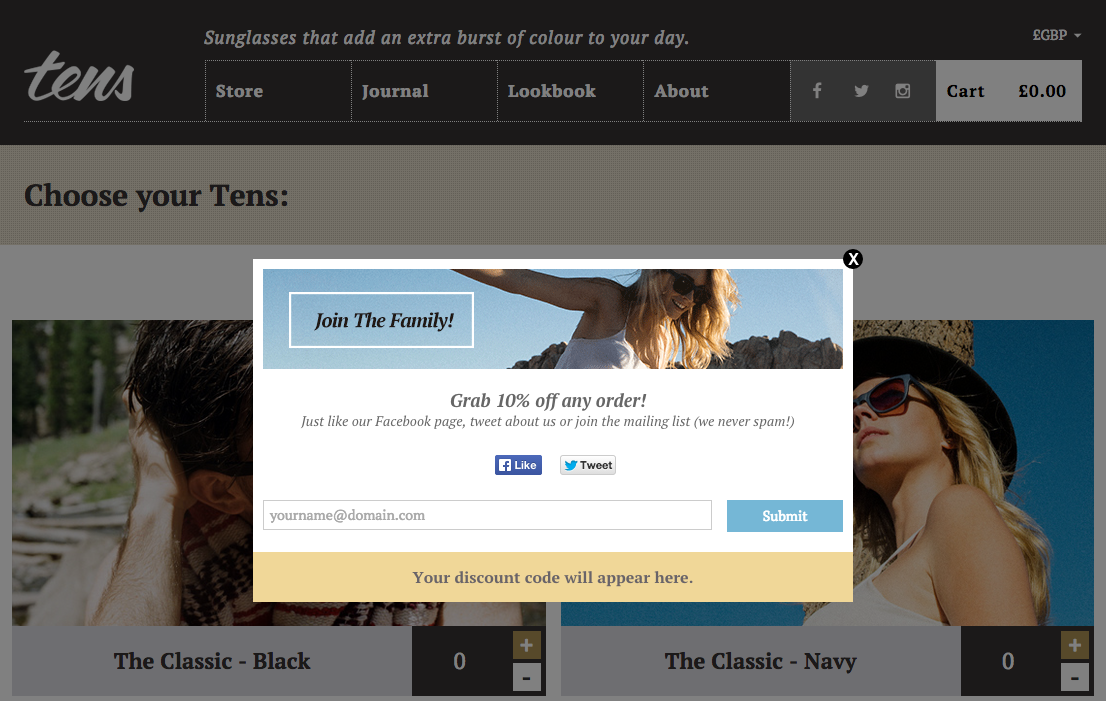 Back in May 2014, Tens Sunglasses started with the vision of enhancing sunglasses by incorporating coloring and filtering in the lenses. After an incredibly successful crowdfunding campaign on the site IndieGoGo, Tens began selling online in October 2014. They have a simple, user-friendly site and have incorporated an e-commerce promotional strategy using Justuno.
What we like:
Branding and Coloring: I'm a big fan of this pop-up, mainly because it captures the essence of the brand and the color scheme matches the site perfectly. It's a simple design that converts!
Font: Tens uses a different font within the promotion. Want to use a different font in your email pop-ups? Access any Google Font within the Justuno design canvas!
5. Fed By Threads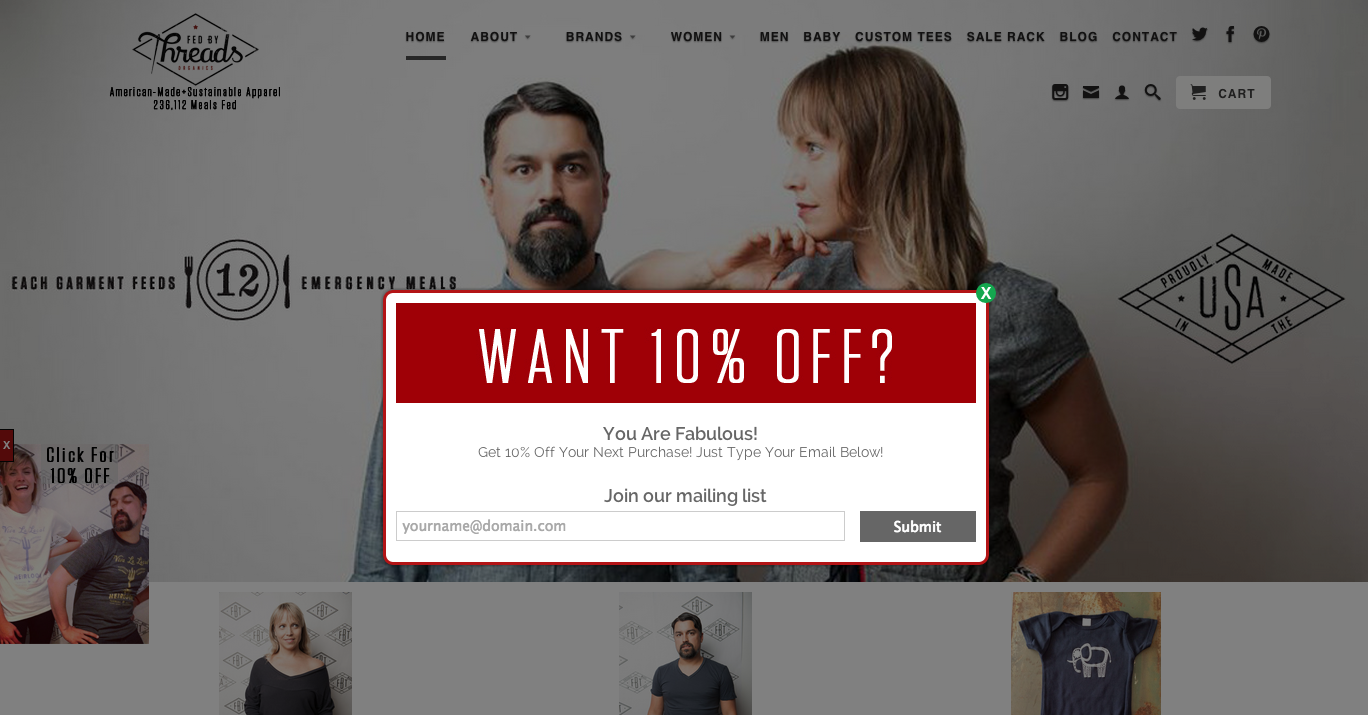 Fed By Threads sells sustainable American made clothing and devotes a portion of its profits to provide meals to the hungry. A great mission paired with a well designed site has placed Fed By Threads in a solid position moving forward. The on site promotion is bold, clear, and has proven to be effective.
What We Like:
Header Graphic: This header acts as a call to action in itself and immediately draws attention to the offer. The visitor knows what they are being offered almost immediately after seeing the pop-up leaving no confusion for shoppers. They even threw in a thoughtful compliment!
6. Big Island Coffee Roasters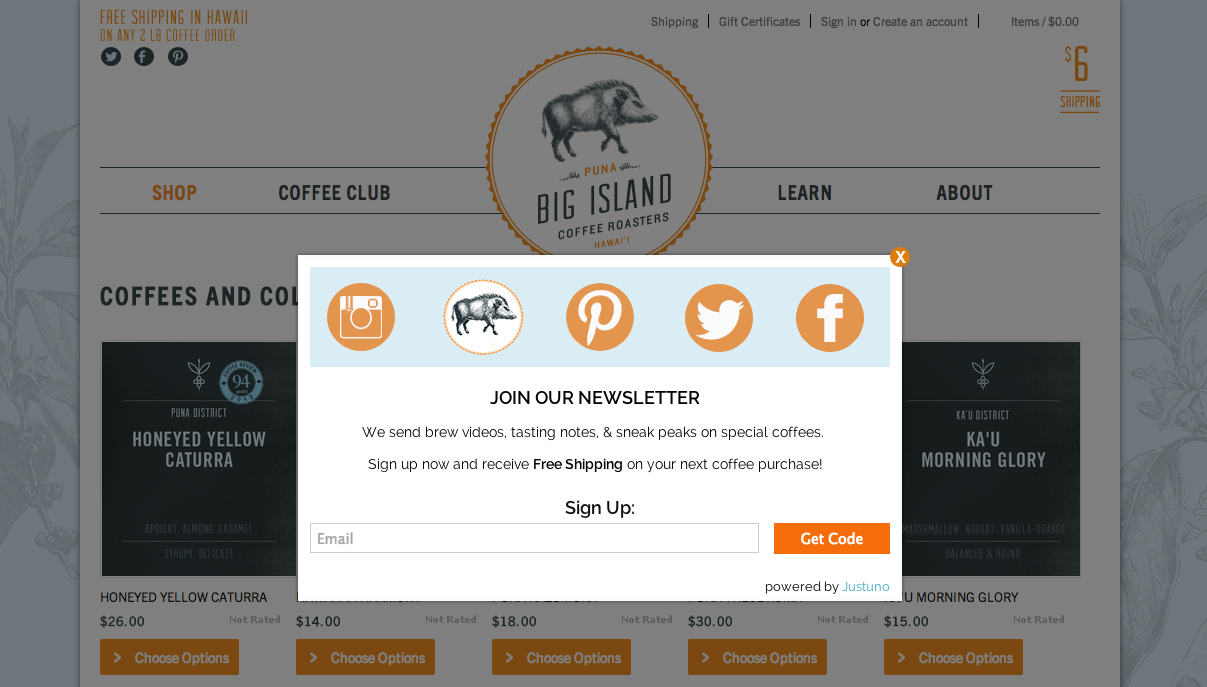 Hailing from Hawaii, Big Island Coffee Roasters is an innovative coffee company that strives to produce the best coffee to come out of Hawaii. I love their logo and the branding on the site. The pop-up design fits perfectly!
What We Like:
Header Graphic: They took a header design that we created and put their own spin on it. It's a cool design with the right color scheme to match the site layout.
Call To Action: The submit button reads "Get Code." By having this wording on the button, visitors may be more inclined to submit their email. The word "get" is especially effective when trying to increase conversions.
7. Modavanti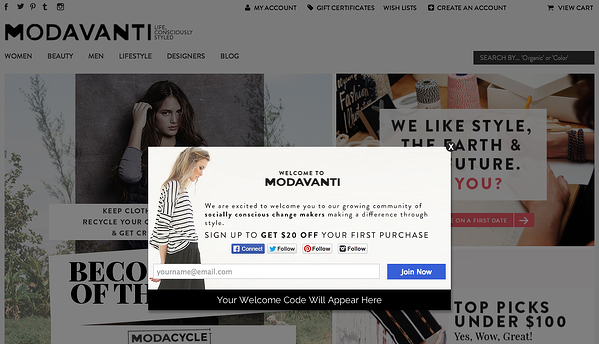 Modavanti provides shoppers with an excellent selection of clothing that will fit any lifestyle. Whether you're looking for American made clothing or eco-friendly material, Modavanti has it.
What we like:
Background Image: Modavanti uploaded a great background image that includes all of the text for the promotion. By taking this route, Modavanti can use the fonts and spacing of choice. They will have to upload a new background image when they want to change promotion details.
8. Cali Fabrics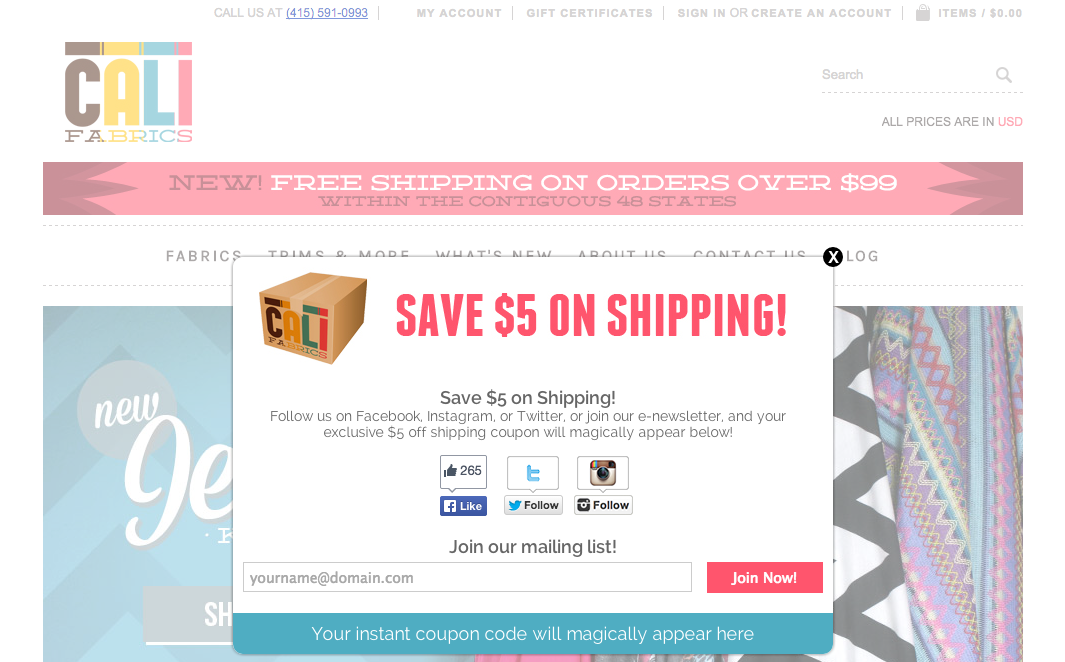 Cali Fabrics is a family owned fabric retailer base out of beautiful San Francisco. I'm a big fan of their color scheme and they have a lot of options for future pop-up design. Currently, they've implemented a simple design.
What we like:
Header Graphic: Another header graphic that is not only visually pleasing while also effectively notifying shoppers of the current promotion. When creating header graphics, be sure that it relays the message you want to send to shoppers.
9. Seea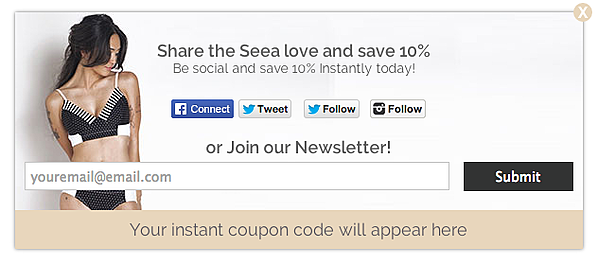 Seea Swimwear sells fashionable swimwear for women, specifically for surfing. They have a very unique website design that features a ton of media similar to Tumblr. Seea added a pop-up to present their promotional offers to visitors.
What we like:
Background Image: This is just a simple background image that gives the pop-up a very clean and organic look.
10. Just For Does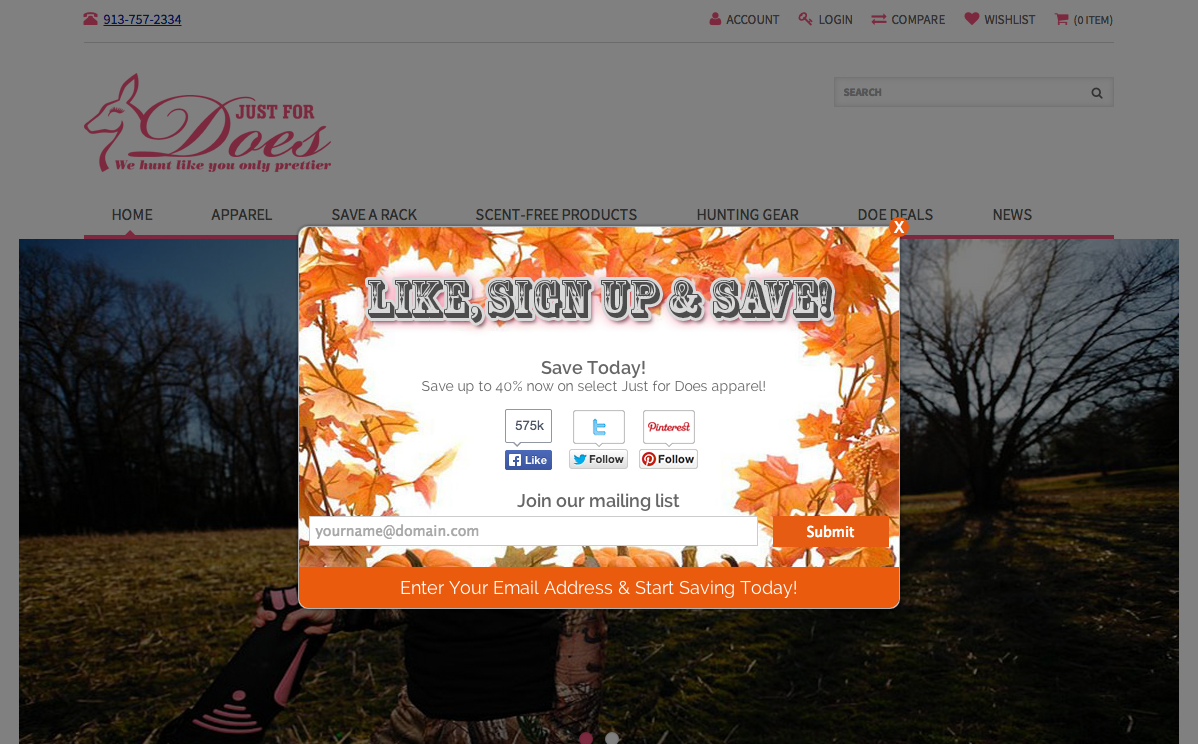 Just For Does is an apparel and personal care products retailer designed for the outdoor woman. Just For Does designs products with an emphasis on hunting and provides women with alternatives that fit their style and needs. Check them out for some awesome gear!
What we like:
Header Graphic: The header graphic that reads "Like, Sign up & Save" informs shoppers effectively while keeping it simple.
Background Image: I love Just For Does' use of customization to fit the time of year! By keeping your pop-up design and promotions up to date with the time of year, you keep things fresh for customers and provide them with an incentive to return to your site.
Create Your Own Pop-Up Design
These examples are a bit outdated. To see how top brands are engaging visitors right now, check out more email pop-up examples or our staff picks for some killer promotional designs!