BigCommerce is an excellent platform to use in order to build a successful e-commerce site. The platform has great functionality at a price that won't break the bank. But when it comes to setting up promotional offers, BigCommerce users face a long and frustrating process. Currently, you have to upload coupon codes one at a time, regardless if you are uploading 1 code or 1,000 codes!
I'm going to take some simple math from Spring Merchant to put it into perspective. It's estimated that uploading one coupon code on BigCommerce takes about 1 minute after filling out all of the required fields. Say you want to upload 1,000 coupon codes:
1,000 Coupon Codes X 1 Minute = 1,000 Minutes or almost 17 Hours
That's right, 17 hours! Nobody has time for that. This lacking feature is taking up your valuable time and hurting your promotional strategy. You may even have to hire your dog to handle that workload...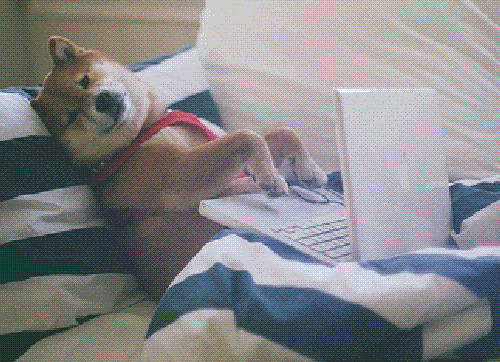 The Solution: BigCommerce Coupon Buster
Now you can easily upload bulk coupon codes into BigCommerce in just a few minutes with Spring Merchant's BigCommerce Coupon Buster! All you need is your BigCommerce API key the coupon buster will automatically sync uploaded coupon codes to the control in the BigCommerce dashboard. This easy to use solution will save you a bunch of time and the headaches associated with the current tedious process.
The BigCommerce Coupon Buster is available for a one time fee of just $50.
Here's a simple tutorial on how it works:
Present your Coupon Codes Onsite with Justuno!
Uploading all of those coupon codes is useless unless you can effectively get the codes to shoppers. By implementing Justuno on your site, visitors will be notified of your promotions and receive a coupon code without ever leaving your site! You can also present your offers at critical points in the purchasing process (cart and checkout pages, exit offers) to boost sales and prevent visitors from leaving your site.
Here's a quick tutorial on how to upload bulk coupon codes in Justuno:
1. Go to the "Promotion" section of the Campaign you want to use.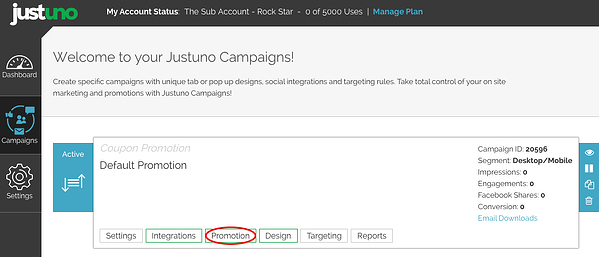 2. Scroll down to step 3. Here, you have the option of using generic or unique coupon codes. For bulk coupon codes, click on "click here."

3. Select "Import Form"

4. Copy your codes from Excel or .CSV file and simply paste in the space provided.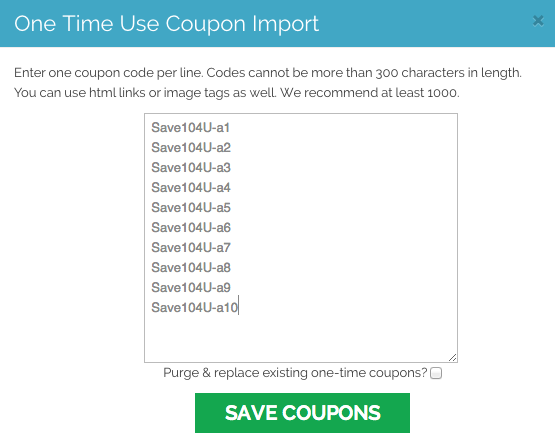 5. Press "Save Coupons" and you're all set. The total number of coupons available will be shown below.

Note: Monitor the amount of coupons available in both your shopping cart platform and Justuno. You want to ensure that the given coupon code will work at checkout.
---

Effectively distribute your coupon codes onsite with Justuno. It's quick and easy to get started with a free account today! Start converting your traffic into sales, emails and fans!